If you own or work for a growing business, you're likely aware that the right commercial model can go a long way when it comes to improving the efficiency of your operation. Luckily, we have many commercial vans for sale in Richmond, VA, in our inventory at Richmond Commercial Truck Center!
We're extremely proud to offer such a diverse range of commercial vans to help companies get their work done easily. You can view our inventory either online or in person.
However, we do more than just helping you find the right model: we also help with financing and maintenance! To learn about all our services, keep on reading.
Getting to Know Our Commercial Van Inventory
We already have a wide collection of Ford commercial vans that we continue to add to every day. Why do we do this? Well, we understand that every unique business needs an equally unique model to help with their day-to-day work. Therefore, we strive to help you find a model that can assist you during your daily tasks.  
For instance, if you're looking for a spacious commercial model to comfortably accommodate several employees, we have those commercial vans for you. If you're seeking out a large van to safely transport your inventory, we have those options as well!

To begin exploring our diverse lineup of commercial vans, visit our online showroom or stop on by to visit it in person. On our online inventory, though, you can read about every model's features and specifications, from their power output to their standard features.  
During your search, you'll likely come across the popular Ford Transit Connect, a versatile van that can be configured based on your business needs!
Commercial Van Financing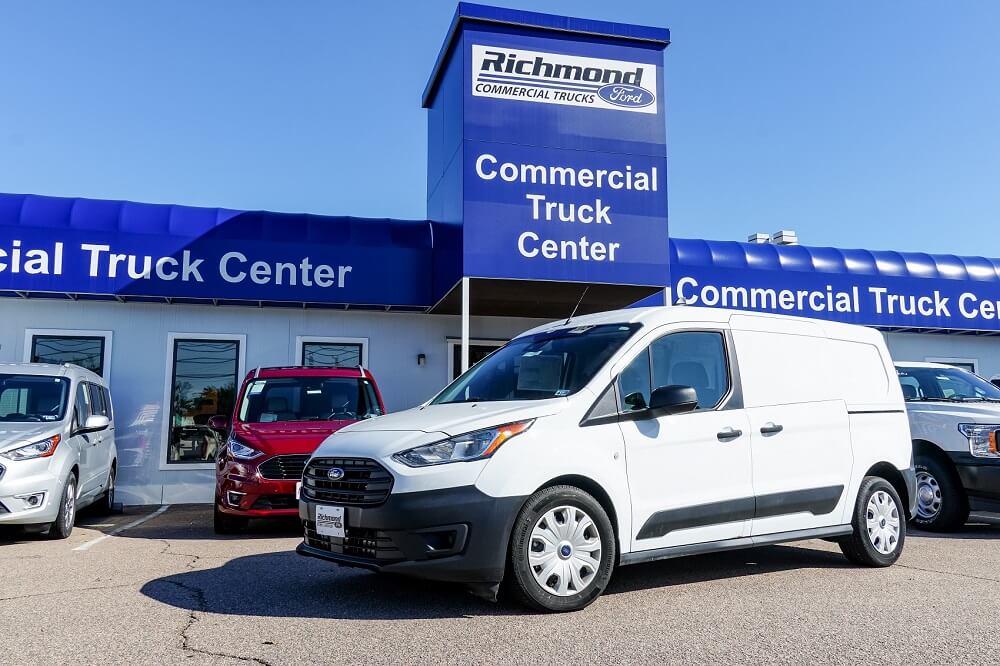 Since we work with and help local business owners, our Ford commercial finance center has crafted two unique programs to help you secure the model you want.
The first program is the Ford Commercial TRAC lease, which comes with the following perks:
No mileage limitations
Flexible lease terms-12 to 60 months*
Combined billing
No wear or lease-end charges
The second program is what we call the Ford Commercial Line of Credit. If you sign up for this program, you're provided with availability of credit when you need it!
If you're ready to begin the finance process, fill out our financial application today.
Service Specific to Commercial Models
These specialized models need specialized maintenance-and that's where our certified technicians come in!
Our dedicated team of technicians uses advanced equipment to ensure your Ford commercial van performs well for many years and miles. We're confident that our team can inspect your vehicle, diagnose any issues, and repair it in a timely manner.
If you want to add on specific accessories or packages with your van, our team can also complete those tasks for you. Whether you need a routine oil change or an annual inspection, use our scheduling tool to book your next visit!  
Ford Commercial Vans for Sale in Richmond Virginia
At Richmond Commercial Truck Center, our goal is to help your business operate efficiently. Check out our inventory of Ford commercial vans in Richmond today! If you find a van you're interested in, call us up to schedule a test drive.
You May Also Like:
Ford Cargo Vans for Sale in Richmond
Ford Cutaway Vans for Sale in Richmond
*Not all vehicles and/or lessees may be eligible. Longer terms may be available subject to credit approval.