Anytime that you're in the market for a new vehicle, careful research and consideration is key. But purchasing a vehicle or fleet for your business isn't just a personal investment, it's an investment for your workers and your bottom line too.
That's where Richmond Ford's commercial vehicle reviews step in. Offering you easy-to-read model overviews of the vans and trucks in our inventory, these comprehensive resources give you a grille-to-tailgate look at the model or series you're considering so you can find the right vehicle for the job. 
Ford Commercial Vehicle Reviews Help You Understand…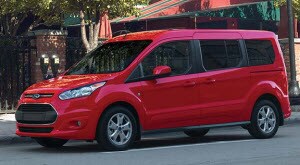 Trim Levels and Options: A plethora of trim levels, options, and add-ons can make it tough to narrow down which model is the best fit. Our Ford commercial vehicle reviews highlight each vehicle's base equipment so you get a good feel for what's included.
Utility and Performance: You want to purchase a vehicle that's going to be able to handle the demands of your company's daily tasks with ease. From finding out how much power and torque brims under the hood to reviewing the model's GVWR and evaluating max tow and load stats, our reviews get you quickly up to speed on each Ford truck's capabilities. 
Safety and Security: If you're responsible for making the executive decision on work vehicles for yourself and your fellow workers, you definitely want to seek out equipment that will be sturdy, safe, and secure. To help you out in this category, our vehicle reviews provide you with a safety features summary and relevant crash test information.
Technology: Looking for a commercial ride that can double as a mobile workspace? We've got you covered there, too. Our Ford commercial vehicle reviews will teach you about the standard and available technology features that can help your team boost their efficiency and productivity while out on the road.
Get Your Commercial Vehicle Research Underway
Research ready? Get started now by selecting the link to the vehicle you're interested in on this page.
As always, if you have any questions during your research, feel free to get in touch with the Ford commercial vehicle experts at Richmond Ford Commercial Trucks via one of the numbers below:
      
Richmond (Richmond Ford Lincoln): 804-358-5521
          
Glen Allen (Richmond Ford West): 804-273-9700