Two locations, an experienced staff, and Virginia's largest inventory of Ford work vehicles really puts Richmond Commercial Trucks on the map!
If you're looking for a Ford commercial dealer near you, it's worth your while to get to know us. Browse the links on this page to get acquainted with the areas we serve and keep reading to find out what makes our business the right fit for yours.
Where Ford Commercial Trucks Converge
For many of our customers looking for a Ford commercial dealer near them, a varied selection is of supreme importance. Our diverse inventory is well-stocked to suit the dynamic needs of your business, from heavy-duty pickups to box trucks to delivery vans. Forming your custom fleet has never been easier.
Ford's top commercial contenders under one rooftop is pretty sweet, but the icing on the cake is having automotive work vehicle experts at Richmond Commercial Truck Center there to help you assess and address your needs with the upfit package and body setup that will work for your business.
Your Commercial Service Center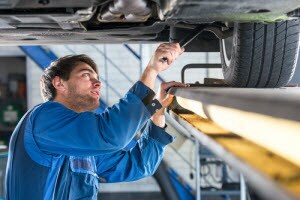 Commercial vehicles require special attention, and to diagnose, fix, and maintain them, an entirely different skill set must be called into play.
To help our work truck owners receive the best care possible for their vehicles, the Richmond Commercial Truck service center provides the certified expertise of an in-house diesel mechanic team. Trust them with all of your commercial vehicle maintenance needs.
Recommended Far and Wide
Our commercial truck knowhow and dedication to helping local businesses of all sizes find the right ride for their application hasn't gone unnoticed.
As the recipient of several awards, including the 2016 Ford Dealer of the Year Award from DealerRater.com, we encourage you to check out our DealerRater page and read up on what our customers have to say about their experiences.
The Areas Richmond Ford Commercial Trucks Serves
Tracking down the dealership that has everything you're after is just as important as finding the work truck that has everything you need.
To find out about the services Richmond Commercial Trucks offers in your region, click on the link to your town or city on this page.
Need assistance now? Reach out to us by phone at 804-358-5521 for Richmond Ford Lincoln or 804-273-9700 for Richmond Ford West.
Ford Commercial Trucks Ashland, VA
Ford Commercial Trucks Glen Allen, VA
Ford Commercial Trucks Colonial Heights, VA
Ford Commercial Trucks Midlothian, VA